Welcome from Your Max Motors Family

Welcome to Max Motors E-Newsletter. We are ready with some new GREAT AMERICAN PRODUCTS!! During this year we have been perfecting our processes and making sure we create the easiest car buying experience. I know how important every single customer is that walks through that door. Our team is committed is to making each experience personalized to you! Max Motors Group is excited to show you how easy doing business with us can be.

We look forward to earning and keeping your business.
- Your Max Motors Family

SPARE THE FLAT TIRE FIASCOS: ALL-NEW FORD EXPLORER INTRODUCES MICHELIN SELFSEAL TIRES DESIGNED TO KEEP ROAD TRIPS ROLLING

Image & Article Courtesy of media.ford.com

In the time it takes you to read this sentence, another vehicle tire was punctured.

Road trip sidetracked. Commute delayed. Across the United States, flat tires will leave millions of motorists every year on the side of the road, jack in hand and gravel on knees.

CHEVROLET SIMPLIFIES THE CHECK-IN WITH VEHICLE LOCATE

Image & Article Courtesy of media.chevrolet.com



The myChevrolet mobile app recently received a new feature that will help ease loved ones' worries and make the process of checking-in more convenient. The feature is called Vehicle Locate1 and it allows Chevy owners to send automated text alerts to friends and family when their connected vehicle enters or leaves a designated boundary area, or arrives at or departs from an address. Owners can also use the feature to pinpoint the location of their connected vehicle at any given time.

"Legends Aren't Born, They're Made" Marketing Campaign Cements Jeep® as Legendary SUV Brand

Image & Article Courtesy of http://media.fcanorthamerica.com



The Jeep® brand is launching "Legends Aren't Born, They're Made," a new 360-degree marketing campaign affirming the automaker's legendary SUV status. The campaign's first two spots deliver a resounding rebuke to all other automakers' attempts to stamp their SUVs in the same vein as a Jeep brand vehicle.




Visit One Of Our 3 Locations




Monthly Sudoku Puzzle

The aim of Sudoku is to complete the entire grid using the numbers 1-9. Each number can only be used once in each row, once in each column, and once in each of the 3x3 boxes. Visit www.sudokuoftheday.com for further tips and help about how to play - and good luck!

Puzzle and Content Courtesy of www.sudokuoftheday.com



Monthly Trivia Question

Q: Which U.S. president was the first to bring a pet to the White House?

Answer to be revealed next month!

Last Month Answer: 1907


Have a Referral For Us?

We value referral relations and we would sincerely appreciate your recommendation.


Monthly Recipe

Stawberry Goat Cheese Bruschetta
Photo & Recipe Courtesy of allrecipes.com
Recipe By Chef John
See Recipe Online

Ingredients



1/2 cup balsamic vinegar
12 slices Italian bread
2 tablespoons all-purpose flour
1 tablespoon olive oil
1 pound strawberries, washed and diced
2 teaspoons fresh thyme leaves, plus more for serving
1 cup goat cheese, room temperature
salt and freshly ground pepper to taste


Proud To Be A Part Of The Community!
Max Motors & Lily's House!

Stop by any Max Motors Location to pick up your tickets to win this 2019 F-150, donated by Max Motors!#LilysHouse #MaxMotors

2018 Sales Professional of The Year!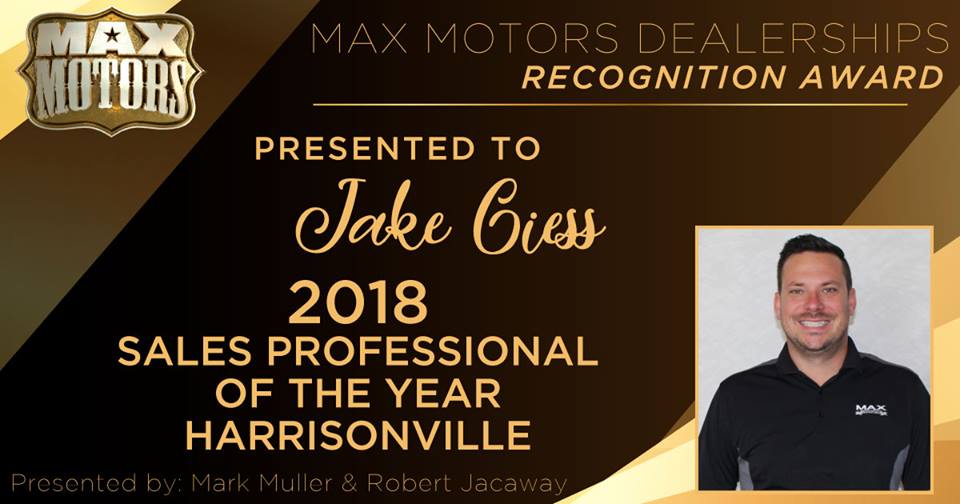 Max Cares About Community. Click Here to Learn More
Max Motors
Easiest Place To Buy A Car!


(1) According to the Farmers' Almanac. (2) See onstar.com for details and limitations. Services vary by model. Service plan required.



(866) 406-6069
Harrisonville Ford - (816) 380-3251
Butler Ford Chrysler Jeep Dodge Ram - (660) 679-6567
Nevada Chevrolet Buick GMC - (417) 667-4000




© 2019 Max Motors- All rights reserved
Includes copyrighted material of Pin-Up Marketing